Centuries & Sleuths, Forest Park, IL (My Favorite Bookstores, #1)
A lot of guys, once they get married, they have to hide their gambling debts, or unexplainable hotel stays, maybe extravagant automobile this and that. Not me. When Margaret and I recently decided to record all our spending, in order to figure out, "Where the fuck is it all going?" it became obvious I had…. a book problem. Not two weeks into the first month of our new fiscal responsibility strategy, I found myself paying cash for David Mamet's Chicago and tacking Rebecca Makkai's The Great Believers onto a gift card purchase as a small form of obfuscation. The reason for my problem is mostly straightforward and clear: I love books and want them for my own. I collect them. I get them signed. I delight in seeing my bookcases filled with great titles, and being able to reach for them at a moment's notice.
But seeing the totals in black and white: whoa! This might be Dusty's only inheritance, or at least a big hunk of it.
There is another parallel reason for my problem: I love bookstores. Not just any bookstores. Barnes & Noble does not tempt me. Neither do a variety of blah independent bookstores I won't name because my criticism of them is almost never personal.
Augie and Tracy Aleksy are part of my problem. They own Centuries & Sleuths, a little independent shop on Madison Street in Forest Park, conveniently located across the street from Casa de Puros, a nice cigar shop that is part my other spending problem. Centuries & Sleuths is EXACTLY what you want in an independent store, particularly a bookstore.
Here's what's great about Centuries & Sleuths: it's like a standing party where the keg never runs out. Sometimes, it's just Augie tapping his keyboard or flipping pages in a new book. Sometimes, it's a neighboring business person killing some down time. Often, it's a handful of customers browsing for a gift. There is talk of books and authors, a kind of excitement in sharing our various discoveries. Always, Augie seems genuinely happy you're there. Yes, he wants to sell you a book—he's got bills to pay and a retirement fund to stoke. But it's not a requirement. His bookstore is his home and you're welcome.
Once in a while, it's an event built around an author and their new title. I was there last Sunday (Aug. 19) to hear Max Allan Collins and co-author Brad Schwartz talk about their new non-fiction book Scarface and the Untouchable: Al Capone, Eliot Ness, and the Battle for Chicago.
I popped into the store 15 minutes before the event was to start. Max was already there, holding court. I don't know Max—or at least I didn't know him until Sunday. He looks a little like Elton John and immediately strikes you as somebody who's happy to stand in the street to save your parking spot. Augie brought me over and introduced us. I told Max about the Chicago Literary Hall of Fame, adding that all our inductees are dead, you have to be dead to get in. "I'm not feeling so great," Max said. John Binder strolled in. He's a mob historian who's written the books The Chicago Outfit, Al Capone's Beer Wars, as well as The Girl Who Applied Everywhere, and conducts a gangster tour of Oak Park and River Forest called There Goes the Neighbor Hood. Bob Goldsborough showed up. Bob is a prolific author—he took over the Nero Wolfe series after Rex Stout passed, and then started his own series based on newsman-turned-gumshoe Snap Malek. Bob, like Snap, is a longtime journalist. Great writer, great guy. There were other very accomplished people in the room, most whom I didn't know but got to at least meet. Then somebody brought in donuts to go with the coffee already provided.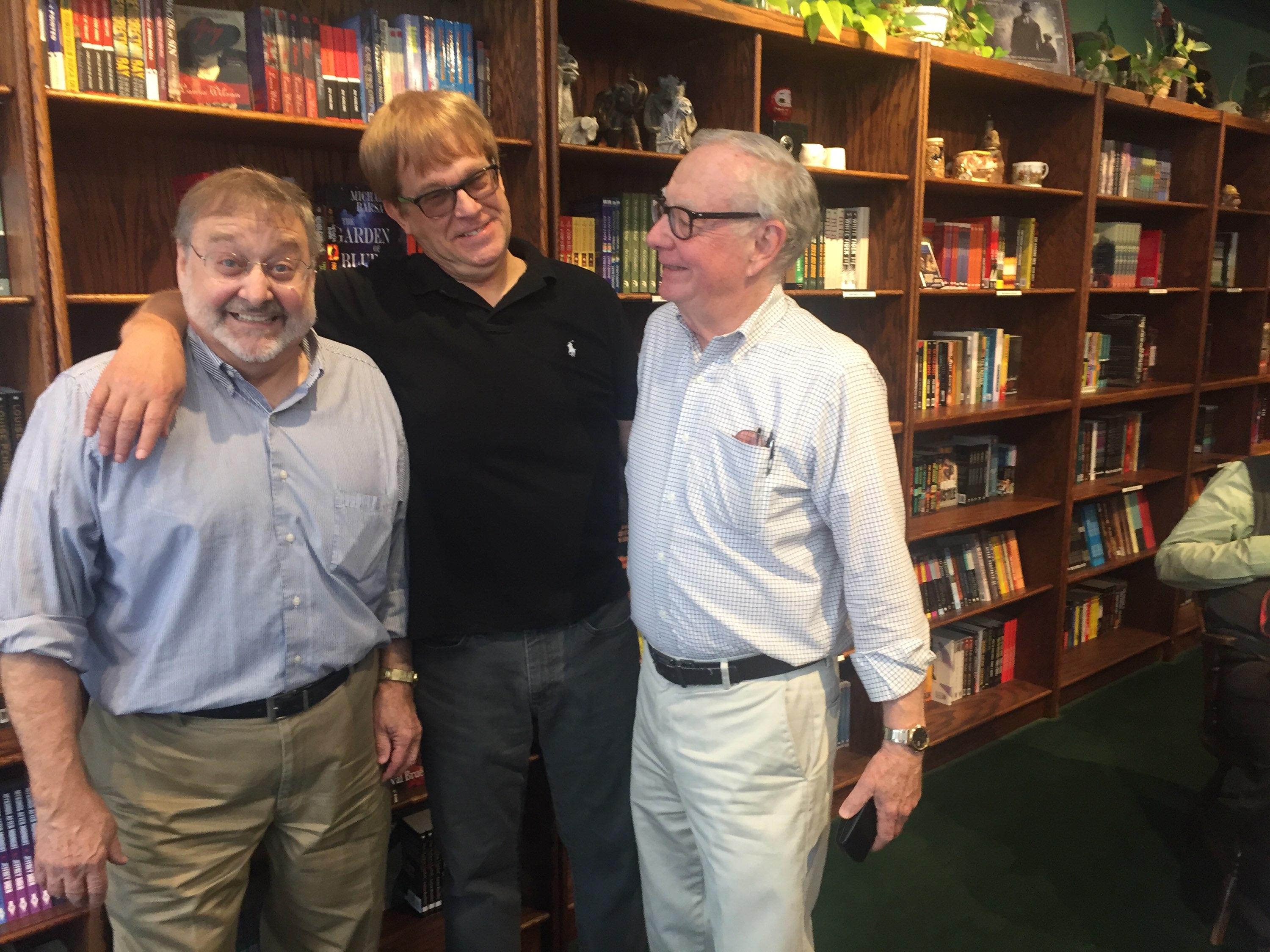 It's a snug place. For author events like this, Augie and Tracy basically line up a dozen rows of white plastic chairs. You want to sit behind somebody at least a bit shorter than yourself, and to avoid big hair. A guy in a khaki vest and safari hat comes to a lot of these things, and always asks questions that reveal his deep relationship with the literature at hand—he's compulsive in a way that might be debilitating and awkward in most settings but can really kick start a book party. Max saw him across the room and threw up his hands, surrendering in advance of the first unanswerable question.
Augie is the maestro, though he hardly considers himself anything but a lucky bystander. He reads a ton and always has astute observations and recommendations. His emcee work is part orchestrated and part improvised, but the audience feels comfortable to call out corrections and even jeer. Augie just giggles—he giggles a lot—and moves on.
Then the show starts. What separates Centuries & Sleuths from a lot of bookstores is that the atmosphere is casual and generous, and seldom do the authors merely read the time out. In this case, Max and Brad just started talking. About their book, yes, but in general about Al Capone, Eliot Ness, the intricacies of their collaboration. Audience members felt free to interrupt when the urge to know something struck.
Max took over writing the Chicago Tribune's Dick Tracy comic strip from the legendary Chester Gould. Max knew Gould well enough to visit his office, to visit his home. He called him "Chet." Max confirmed, via first-hand discussions with Gould, what most people already suspected: Al Capone was the model for Big Boy. He also got from Gould, in a way, that Eliot Ness was the model for Dick Tracy. Fascinating stuff.
Brad looked the part of the scholar, which he is, and wound his way through the intricacies of his research, and Max's, in a way that gave a vivid portrait of how these two arrived there today, book in hand. He and Max had a repartee in which not only was there mutual admiration, but a kind of synergy that allowed one to finish the other's sentences. Though I haven't read the book yet, I'm confident it will be a great one.
Then Max called up his wife Barbara Allan, who co-authors the popular Trash 'N' Treasures Mysteries. The topic veered to the antiquing books, and their own collaborative quirks, and questions flew about the room until Max said that Augie looked nervous. "He's got that look like it's time to sell some books."
I met Augie and Tracy soon after moving to Oak Park, maybe a dozen years ago, maybe more. I saw that red awning on Madison Street and before I knew it, I was holding a Sherlock Holmes trinket, and discovering the Chicago section, and listening to Augie rave about authors I now cannot believe I'd never read (like Julie Hyzy and Barbara D'Amato). Bob, Augie, Tracy, and I have dined at caffe De Luca with Diane Gilbert Madsen, author of local mysteries who occasionally comes in from Florida. And we've lunched across the street at Louie's Grill, which Augie enters as though it's his own mom's kitchen. And we've just sat around his store and talked.
Augie and Tracy, they're pillars of the community, our community, and we're lucky to have their store there. So, the way I look at it, I feed the meter to help keep the doors open at Centuries & Sleuths and other great bookstores; in the process, I build my awesome book collection. Now, I just need Margaret to see it the same way.