The Book Cellar (My Favorite Chicago Bookstores #2)
Lincoln Square brings back memories, great ones, of living in London. Probably my three favorite things about that city, in no particular order, were the squares, the pubs, and the bookstores. Russell Square, in Bloomsbury, was one of my favorites, just the fact of it really, a place with a little fountain and park benches, surrounded by old, dignified architecture, a green space with no other purpose than to slow an otherwise frenetic pace. No cars or buses or commerce there, just a natural tranquility. The pubs, which are everywhere, possess a community spirit—people go there to talk, really talk, the music either muted or a feature that meshes with the place's personality. Really old pubs, some of these, centuries old, with such history and charm as to warrant a visit even if you aren't in the mood for a pint. I most enjoyed The Dove, the oldest riverside pub in Hammersmith, where we lived much of our time there, but also hidden alleyway pubs like Ye Olde Mitre in Farringdon. Finally, the bookstores: my God, the bookstores! Places like Peter Harrington Rare Books in Chelsea beckon with a sort of Dickensian exterior and a museum-like interior, the finest wood, elegant displays, beautiful books everywhere. Lincoln Square has a just a touch of all three, with its pedestrian area near the fountain, a series of interesting places to get a drink, and….The Book Cellar.
The first time I stepped foot in The Book Cellar…I can't even remember. Seems like it's always been there. I know, though, that it opened in 2004 and I was still in London for another year or so after that. Probably late 2005. It wasn't until a few years later that I got to know owner Suzy Takacs, and once that happened the store had my allegiance.
Suzy is there most of the time, behind the counter or scurrying between shelves, a look of Shit, I'll Never Get All This Done transitioning to a smile once she sees you. She's soft spoken, smart, humble, a woman of tremendous capacity and accomplishments who doesn't see anything special about herself. A real Chicagoan, in that way and others. A pillar of that Lincoln Square neighborhood and well beyond.
The Book Cellar fosters that same community spirit as the quality London pubs. It was the first bookstore I remember that served alcohol—I'm sure there were others, but it wasn't common 16 years ago. Back then, most stores maximized their space for books—some places, the design didn't even seem to account for the fact that people had to walk around in there. It wasn't so much that bookstores discouraged socialization as they didn't consider the possibility. At most, a shop owner might keep a pot of coffee handy.
Suzy obviously did consider the possibilities. It's a café setting, set up to be a part of people's lives, a place to pop into instead of just passing by. I don't live near Lincoln Square, but I get there often enough. When I want or need to see somebody that lives that way, we often meet up at The Book Cellar. Over tea and maybe a pastry, surrounded by blown-up book covers, we chat—no hurry, not from the store's point of view. Usually, I either get there early or stay late to browse the books. It's a magnificently curated collection—thoughtful staff recommendations, a good blend of literature, local authors well represented.
Evenings are usually when special events happen, and then I tend to swap out tea for a red wine or a beer. I've been to all the Chicago Writers Association Book of the Year ceremonies there, several Essay Fiesta nights, a couple of book launches, a bunch of author readings. I almost always walk away from these occasions feeling more connected to our literary community, continually impressed with the good will inherent in so many writers and readers.
The Book Cellar is on the small side, but there are a few comfortable chairs near the window and a half-dozen tables staged in front of the back counter. It gets a little tight when there is a decent crowd for this or that event, but the staff is always hopping and the customers seem okay standing in the back or tucking themselves into an aisle. Extra chairs are put out.
Walking out of the Book Cellar on a nice summer evening, or even a harsh winter's night, the lights shine from the German restaurants, the bars, the small toy store and clothing boutique. I get a fuzzy sense of that little stretch of Lincoln Avenue as a pause from the bustle behind, above, all around. Just like those European squares.
I've been friends with Suzy a long time now—even if I weren't I'd make it a point to get to her store as often as possible. It's friendly and comfortable, filled with great books and people who cherish great books. Recently, as part of my personal effort to support Chicago's independent stores, I purchased a pile of books. This is going back a month and a half now, I guess.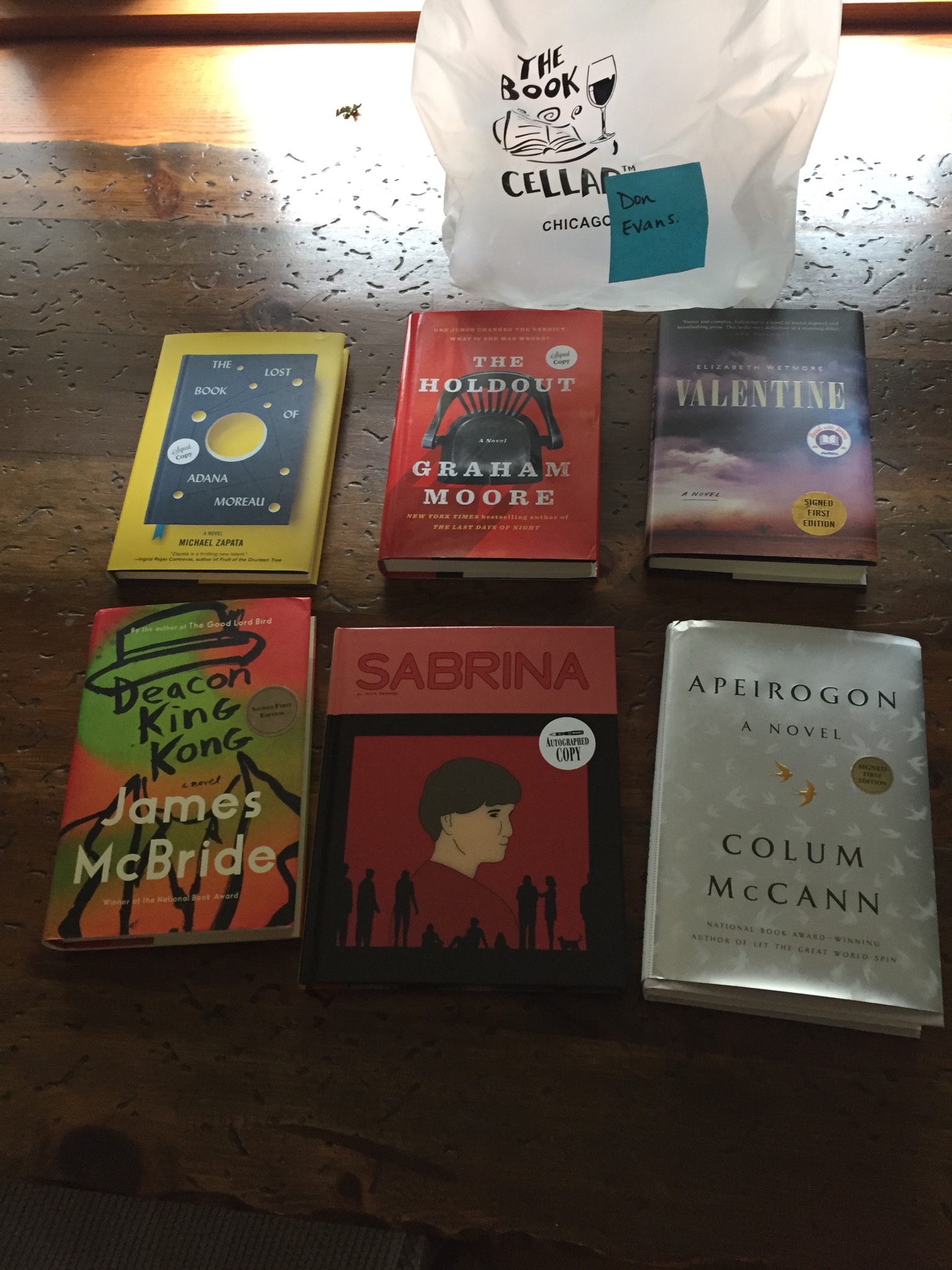 I don't usually spend that much money at one time—I don't really have it to spend, not on any kind of regular basis, for sure. Usually, I walk away with a title, maybe two, and get to the reading. This experience, though, was more carnival-like: six books, all at once, each, for different reasons, calling my attention. Suzy consulted me on which books to get. Since I could not browse the store, read the jackets, preview the opening chapter, I wasn't sure what was there that I wanted. So Suzy and I talked on the phone for a good hour, trading ideas about authors and books, during which I knew, "I'll take that one," and "Yes, put that aside."
I've yet to read any of the books all the way through. Like a carnival, I wanted to go from one ride to another—a little James McBride, then a quick trip through Elizabeth Wetmore's novel, just a sampling of Michael Zapata. It's a genius program I've set up: under the guise of supporting my favorite bookstores, I've rationalized a way to get myself a bunch of books I ordinarily would not get. I do hope it helps, though.
Jim Garner started a campaign called Inside for Indies that has helps raise money for The Book Cellar and other Chicago independents.
He asked me to pitch in, and I've done what I can. This personal effort, though, feels right in a different way. I'm looking forward to a time when I can just hang out at The Book Cellar, look at books, sip tea, catch up with Suzy. I'm looking forward to tilting my head left and right as I leave the store, calculating whether to prolong my time in Lincoln Square.
I was masked up, wearing gloves, when I picked up the books. Suzy had set them in the entranceway, replete with a "Don Evans" sticky note on the bag. As I was leaving, I saw Suzy scurry toward the front: she waved, I nodded, and then I was back in my car.
For now, that's the way it has to be, but I retain some optimism that what we do between now and whenever the pandemic clears will influence the shape of the city to which we return. That shape, hopefully, includes The Book Cellar, thriving, bustling, maintaining its special place in our community.